Low-calorie carbonated cocktail mixers at affordable prices.
Cocktails at bars and pubs can be pricey, and sometimes you just need a cocktail at home at the end of the day to wind down. Oftentimes we look for that very specific flavour profile in our drinks that are difficult to communicate and the result ends up being something else altogether.
MXYR brings to you India's first low-calorie carbonated cocktail mixers in 4 different flavours devised by the best mixologists from across the country. They can be enjoyed straight up as mocktails or can be paired with any liquor. They are made of natural extracts, low in sugar, vegan, gluten-free and plastic-free.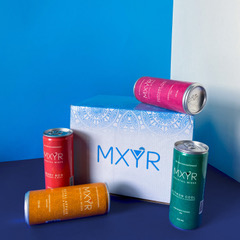 "Staying at home during the pandemic, we got bored of the same old cranberry and vodka", says the founders, Nishchay Jain and Rhea Parekh.
---
Read the complete article in B&B Mag Edition 9
---
https://www.magzter.com/IN/F-Square-Media/Brands-&-Bloggers-Mag/Business/
---